Unless you've been living under a Texas-sized rock the last week, you've probably heard of the sexual assault trial involving Baylor football player Sam Ukwuachu.
As the trial that no one had heard about came to light this week, it was discovered that Ukwuachu was involved in another violent incident prior to his arrival in Waco.
While at Boise State Ukwuachu allegedly "put his fist through a window while drunk", and his girlfriend at the time was advised to stay away from him by Bronco assistant athletic director Marc Paul.
As attention focused on Baylor's handling of the incident head coach Art Briles released a statement claiming he had no prior knowledge of the Ukwuachu's violent past.
"I talked with Chris Petersen [Head coach of Boise State at the time] personally. No mention of anything beyond Sam being depressed, needing to come home."Coach Briles said via ESPN's Max Olson. "It's unfortunate for everybody concerned. That's really about it. Our timeline was followed by what the standards were here."
Not long after that though, Petersen released his own statement that seemingly contradicts Briles'.
"After Sam Ukwuachu was dismissed from the Boise State football program and expressed an interest in transferring to Baylor, I initiated a call with coach Art Briles," Petersen said in a released statement Friday afternoon (via Mark Schlabach of ESPN.com). "In that conversation, I thoroughly apprised Coach Briles of the circumstances surrounding Sam's disciplinary record and dismissal."
Now, if you're jumping to conclusions that Briles must be lying, you'd be in the majority, but that's not necessarily fair. After all, Petersen has reason to cover his own behind here.
It's doubtful that we'll ever know who's telling the truth, but in somewhat of a surprise move, Briles is firing back at Petersen.
"I was contacted by Coach Petersen at Boise State in spring 2013 and he told me he had a player from Texas who needed to get closer to home and that he thought our program would be a good spot for him. I know and respect Coach Petersen and he would never recommend a student-athlete to Baylor that he didn't believe in. In our discussion, he did not disclose that there had been violence toward women, but he did tell me of a rocky relationship with his girlfriend which contributed to his depression. The only disciplinary action I was aware of were team-related issues, insubordination of coaches and missing practice.

"In addition, I talked with Tony Heath, his high school coach, who gave us a great recommendation.

"As required with any transfer to Baylor, Boise State acknowledged that he was not suspended due to any institutional disciplinary reasons and further that he was eligible for competition if he chose to return to Boise State."
ESPN's Jake Trotter tweeted out the form that Boise State allegedly signed as part of Ukwuachu's transfer.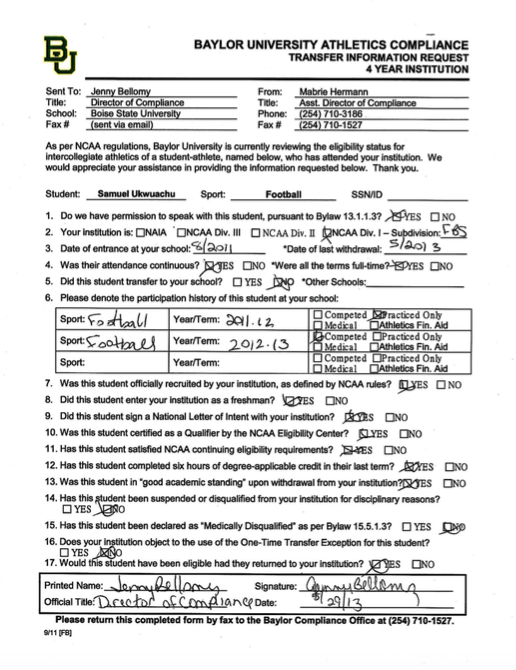 Where this goes from here is anyones' guess, but on a certain level, whether or not Baylor knew of his violent past, that's not the issue. That's a distraction. The issue is why was he allowed to continue classes with the victim, and how was this kept secret for so long.